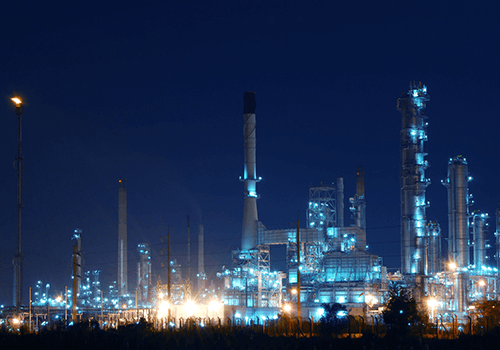 Client Goals
Our client, a crude oil refining and petroleum products distribution company, had three major goals in this project. First, they wanted to increase the capacity of a pumping station. Secondly, they wanted to be able to switch products in the lines more easily with an eventual goal of operating the station unmanned. Thirdly, because they were located in a flood plain, they wanted to move their piping to higher ground.
The project had to be completed in a very tight time frame since the client could allow the lines to be shut down for only two days.
Design & Solution
Because the project involved reworking an existing system in a new location, the client was able to do a lot of pre-work so the project could be completed in the two-day time frame. Our part of the project was to design new controls and a power system to get the station running again.
On the controls side, our engineers designed a system using as many standardized components as possible so that parts in all the customer's stations were interchangeable and so that an operator from one station could easily adapt to the system in another station. We used Ethernet architecture for controls intercommunication.
We also used an overhead cable tray system instead of going underground with the wiring. This method made it easier to construct the project where the trades needed to work in the same locations simultaneously.
The pumping station control system consists of several control devices arranged to provide three levels of control. The control devices include a local HMI, hot backup PLCs, a remote control facility computer, a hot backup Valve Controller, and a Remote Terminal Unit (RTU) for remote communications.
The PLC is the heart of the control system, collecting data, filtering the commands received from the operator, and making operational decisions as necessary. The PLC controls the system by direct wire communication with the Valve Controller and the various individual pump controllers. Status and control information is gathered the same way. The RTU provides a microwave link between the PLC and a remote control center. Each piece of equipment works with the others to provide a redundant control network, greatly improving the station availability and reliability.
Exceptional Results
All PLC and HMI programming was tested beforehand,  allowing the startup to be completed over the allocated two-day period. All three project goals were met.
The Benefits
The solution proved to be timely and effective. We were able to complete our work, ensuring that the project could be executed in the two-day time frame.
The use of the cable tray helped to decrease the number of underground interferences. The new HMI station greatly enhanced the safe control of the station with fewer operators. Now, the new system is easier to operate and allows for more accurate and more frequent product changes.